When it comes to stopping mass shootings, we don't need to wait for policy makers to "do the right thing." Change can happen, here and now, and we can push for it with nonviolent direct action. This is a strategic approach that takes matters into our own hands, rather than appealing to authorities. It's what desegregated lunch counters, movie theaters, and buses in the 1950s and 60s. And it can serve us well today.
On Sept. 22, as part of the Campaign Nonviolence Action Days, Tom Hastings will use nonviolent direct action to try to stop the sale of automatic assault rifles at Shooters Service in Portland, Oregon. His plan is simple: he will walk into the gun shop and ask the owner to stop selling them. If the owner refuses, Tom will stay until the owner agrees — or he gets kicked out. Tom, a longtime activist, trainer and educator in nonviolent struggle, is willing to risk arrest. For him, stopping the next school shooter is worth it.
He wants to ask the owners of Shooters Service to "take the lead in declining to sell military assault rifles such as the AR-15. That is a useless weapon for hunting and is a battlefield weapon. There is no place for it in civil society. That class of war weaponry is what has been used to slaughter children in schools, racially-targeted shoppers, worshippers in houses of religion, and even just concert-goers and nightclub crowds."
This action reminds us that there is a group of people who can swiftly reduce the threat of mass shootings: gun sellers. We have written them off as a "lost cause" and assumed that they would not voluntarily stop selling automatic assault rifles. But why? Pressure campaigns have shifted the business practices of far more entrenched industries. Imagine what would happen to gun sales if there were lines of concerned citizens outside every gun shop and weapons convention trying to keep people from buying automatic assault rifles. A campaign focusing on gun shops also raises and refocuses the moral question: if you profess to mourn the shooting of our children in their schools, why would you keep selling the weapons that slaughter them?
At the very least, efforts like Tom's can bring attention and awareness to the very places that mass shooters get their weaponry. It's not only a place to intervene with gun owners, but also with gun buyers. This is the second group of people who could, under pressure, prevent automatic assault rifles from finding their way into our schools and streets. What could round-the-clock vigils do to stop an individual from buying an automatic assault rifle? Would such scrutiny maintain better standards around background checks? It might even deter people from trying to buy guns. (The analogy of a suicide watch or intervention is not out-of-place here. Can a gun violence watch at the point of purchase prevent gun deaths?) We are too quick to assume that all power lies in the hands of politicians — and this assumption plays straight into a strategic trap, given the intense dislike of federal regulation by many of the gun rights proponents, sellers and owners.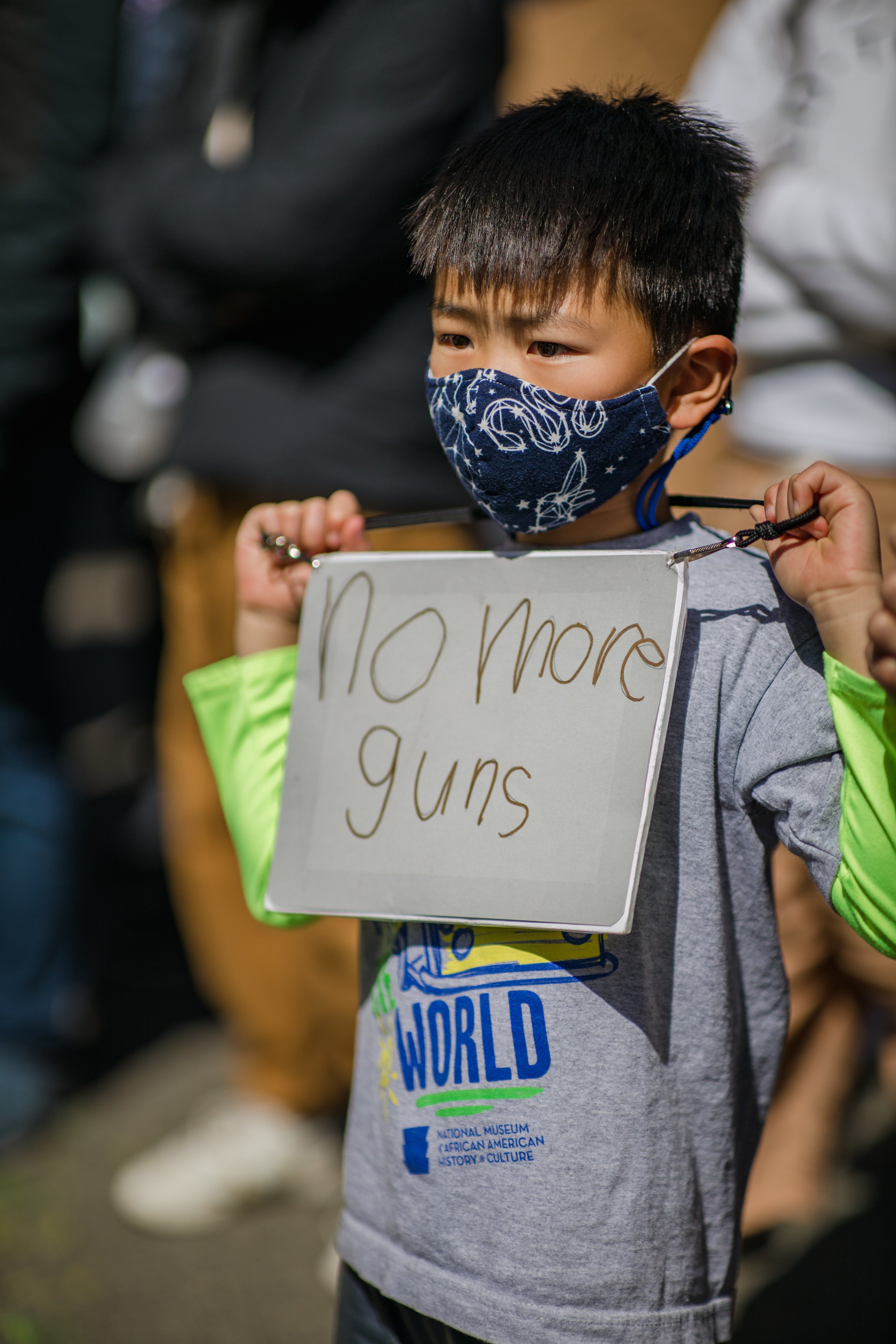 Nonviolent direct action is powerful, as Tom Hastings' decades of experience show. He is no stranger to nonviolent action. In 1985, he was the first to dismantle a portion of a thermonuclear command base, a complex 84-mile length of above-and-below-ground thick antenna signaling system running along the Northwoods of Wisconsin and Michigan near the South Shore of Lake Superior. He and the late Donna Howard did it again in 1996 on Earth Day, earning a three year prison sentence (serving one year before parole and probation). Tom has also been part of campaigns for Anishinaabe treaty rights, resisting the cluster bombs and nuclear missile guidance components of Honeywell, helping create a mass movement in Portland, Oregon against the U.S. invasion of Iraq, and much more. He is a professor of conflict studies at Portland State University and an expert witness for climate justice activists. Tom also co-founded the Portland Peace Team, which de-escalates threats of violence between protesters, counter-protesters, police and other parties.
Members of the Portland Peace Team will accompany Tom during his action, helping to deal with any rising tensions inside the gun shop. Tom has also put forward a code of conduct for the action which the peace team members will remind people of:
Be respectful and courteous to all.
Carry nothing that might be construed as a weapon.
Do not raise voices.
Do no damage property.
Commit to nonviolence under any and all circumstances for the duration of the event.
Fittingly, Tom offers this action in honor of the United States' first nonviolence trainer, Rev. James Lawson, Jr., who turns 94 on Sept. 22. Lawson has been called the "strategic architect of the civil rights movement" and the Nashville sit-ins that he launched with local students, which became a model for hundreds of other sit-in campaigns. Tom Hastings credits Lawson as a strategic mentor and convinced the Portland City Council to declare April 24, 2019 the Rev. James Lawson Jr. Day.
This action is part of the Campaign Nonviolence Action Days which stretch from Sept. 21 (International Day of Peace) to Oct. 2 (Gandhi's birthday and the International Day of Nonviolence). Throughout this period, tens of thousands of people will participate in close to 4,000 actions and events to "build a culture of peace and active nonviolence, free from war, poverty, racism, and environmental destruction." Tom Hastings' action at the gun shop shows how this movement can escalate from proposing a vision to directly challenging the structural pillars of the culture of violence.
Finding the pivot points of change and strategic interventions is an essential part of the long-term work we must do. A world of nonviolence is possible, but it requires nonviolently wrestling the roaring horror of violence out of its privileged position in our streets, economic systems, police departments, militia groups, schools, entertainment and much more. This twisted addiction to unrestrained violence is literally killing our children.
A culture of nonviolence is an imperative of our times. Like Tom, we all need to escalate our efforts to meet the demands of this crisis. Our humanity demands it. Our future depends on it.